Scattering at Sea Clearwater Florida
Clearwater Florida is an enchanting, tropical Florida community that still holds some old Florida charm. Clearwater is a progressive and energetic city that values lifestyle, services and amenities. It is rich in activities, events, festivals and places to go. With mild winters the activities continue throughout the year. A tropical setting, spectacular beaches, lots of things to do, activities, festivals and events, Clearwater offers a perfect destination for families.
The city of Clearwater and Clearwater Beach are separated by the Intracoastal waterway. The mainland serves many of the interests of any contemporary city, while the beach area offers a more casual setting and lifestyle.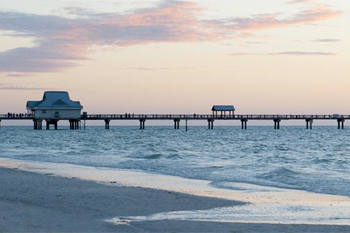 Clearwater is very proud to be designated a Blue Wave Beach. This certification program, overseen by the Clean Beaches Council , promotes beaches which are managed to protect their natural assets. This designation assists the public in identifying the nation's cleanest and safest beaches. Caladesi Island, Honeymoon Island and Sand Key Park have also received the Blue Wave designation.
Points of Interest:
The Little Dolphin that Could:
Winter is a Dolphin that was found injured inside a crab trap. At only 80 lbs. and just 4 months old she was taken to the Clearwater Marine Aquarium for rehabilitation. CMA is the Marine Hospital here on Clearwater Beach that rescues, rehabilitates and releases injured sea life. Once there, it was soon discovered that she would lose her tail. However, a doctor was able to miraculously fit her with a prosthetic tail. Recently released is Winter's story of survival, a heart warming movie, "Dolphin Tale".
Adventure Island
Tampa Bay's only outdoor water theme park.
Big Cat Rescue
Big Cat sanctuary featuring over 200 exotic and endangered animals.
Busch Gardens, Tampa Bay
An extraordinary atmosphere filled with naturalistic animal habitats and shows, hair-raising roller coasters and other rides, and dazzling live entertainment. New this year is Sheikra, the world's fastest, tallest and largest diving roller coaster.
Family Memorial Services
For those families wishing to plan their own memorial voyage, Sea Services™ provides the vessel and crew, from the port of your choice. You select the time, place and arrangements and invite as many guests as you wish.
We have many of crafts at your service. And we can help you plan every detail of this special memorial. As your voyage will be a first-time maritime funeral experience for many of your guests, Sea Services™ will work closely with you to make this a fitting memorial occasion, carefully evaluating your needs and desires to insure a safe, comfortable and memorable day for all.
First-class family services like these vary greatly in every detail. Likewise, their costs also vary considerably. Contact Sea Services today at 1-888-551-1277 for the current cost of a Family Memorial Service. Costs for a small group, larger groups, special services or trips in the height of the recreational boating season are available on request.
Whether your group is large or small, from one guest to several hundred, Sea Services™ carefully chosen captains and crews have the licensing and experience to provide a safe, and most memorable trip.
Captain's Service
Often families cannot venture to sea or attend a scattering ashes at sea memorial service. Our captains bring the cremated remains on an ocean voyage for you. A dignified sea scattering of ashes or burial at sea is performed and documented, with that documentation provided to you. This is our most popular service, with prices beginning at just $325.
While the Captain's Service does not provide for the family or guests to accompany the vessel, specific requests, such as dates or times, special prayers or simple ceremonies are often available. Special planning, however, can add to our costs. Many ports have seasonal demands and schedules vary at different times of the year. You may call us for specific fees at the port of your choice.
Most often, cremated remains are received at Sea Services' home office via priority mail express US Mail, sometimes directly from the funeral home or crematory. For the specific "Three Easy Steps" to a Captain's Service™. Call us anytime with your specific wishes, or just to discuss our services. Sea Services™ will work hard to accommodate your desires while insuring the best value.
Scattering of Ashes or Burial at Sea?
The scattering of cremated remains on the sea's surface is timeless tradition -- a chosen funeral custom for thousands of years. Many, however, due to personal, religious or traditional desires, prefer to be placed in a burial urn on the ocean's floor.
Sea Services has developed the Burial at Sea Service that sensitively accomplishes this timeless tradition, while insuring 21st Century protection of the environment. Whether you choose a traditional Sea Scattering or the dignified Burial at Sea with a urn you can be assured that your service will receive our personal attention at any port, off any shore of our nation.