Maui Hawaii Scattering Ashes at Sea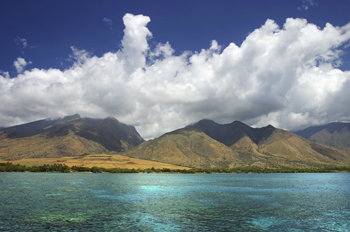 From it's heavenly beaches to its scenic natural wonders, there are plenty of reasons why Maui has been voted "Best Island" by readers of Conde Bast /traveker fir seventeen years.
Points of Interest:
Hana, Maui
Hana is a small, untouched town on Maui's eastern coastline. To get here visitors must travel one of the world's most scenic drives.
Haleakala National Park, Maui
Haleakala National Park, a scenic national park on the island of Maui and home to Maui's highest peak.
Iao Valley State Park, Maui
Central Maui's Iao Valley State Park features one of Maui's most recognizable landmarks, the 1,200-foot Iao Needle.
Makena Beach State Park (Big Beach), Maui
Makena Beach, also known as "Big Beach," is one of the largest beaches in Maui.
Pools of Oheo, Maui
The Pools of Oheo, located just past Hana, are beautiful, swimmable pools fed by waterfalls.
Family Memorial Services
For those families wishing to plan their own memorial voyage, Sea Services™ provides the vessel and crew, from the port of your choice. You select the time, place and arrangements and invite as many guests as you wish.
We have many of crafts at your service. And we can help you plan every detail of this special memorial. As your voyage will be a first-time maritime funeral experience for many of your guests, Sea Services™ will work closely with you to make this a fitting memorial occasion, carefully evaluating your needs and desires to insure a safe, comfortable and memorable day for all.
First-class family services like these vary greatly in every detail. Likewise, their costs also vary considerably. Contact Sea Services today at 1-888-551-1277 for the current cost of a Family Memorial Service. Costs for a small group, larger groups, special services or trips in the height of the recreational boating season are available on request.
Whether your group is large or small, from one guest to several hundred, Sea Services™ carefully chosen captains and crews have the licensing and experience to provide a safe, and most memorable trip.
Captain's Service
Often families cannot venture to sea or attend a scattering ashes at sea memorial service. Our captains bring the cremated remains on an ocean voyage for you. A dignified sea scattering of ashes or burial at sea is performed and documented, with that documentation provided to you. This is our most popular service, with prices beginning at just $325.
While the Captain's Service does not provide for the family or guests to accompany the vessel, specific requests, such as dates or times, special prayers or simple ceremonies are often available. Special planning, however, can add to our costs. Many ports have seasonal demands and schedules vary at different times of the year. You may call us for specific fees at the port of your choice.
Most often, cremated remains are received at Sea Services' home office via priority mail express US Mail, sometimes directly from the funeral home or crematory. For the specific "Three Easy Steps" to a Captain's Service™. Call us anytime with your specific wishes, or just to discuss our services. Sea Services™ will work hard to accommodate your desires while insuring the best value.
Scattering of Ashes or Burial at Sea?
The scattering of cremated remains on the sea's surface is timeless tradition -- a chosen funeral custom for thousands of years. Many, however, due to personal, religious or traditional desires, prefer to be placed in a burial urn on the ocean's floor.
Sea Services has developed the Burial at Sea Service that sensitively accomplishes this timeless tradition, while insuring 21st Century protection of the environment. Whether you choose a traditional Sea Scattering or the dignified Burial at Sea with a urn you can be assured that your service will receive our personal attention at any port, off any shore of our nation.